When:
May 2, 2023 @ 12:00 pm – 3:00 pm
2023-05-02T12:00:00+10:00
2023-05-02T15:00:00+10:00
Contact:
Rocky Biasi Accidental Counsellor Live and Online
A Solutions Focused Approach to listening and responding to emotional distress without burning out.
Who is this for?
This session is for anyone and everyone who responds to emotional upset and distress. That's most of us, right?
If you're a teacher, parent, community service worker, anyone really who wants to learn how to listen and respond to emotional upset without being overwhelmed. This is for you!
Why is this important?
One story comes to mind that illustrates the importance of this session. A young lady I was seeing for counselling recounted how she couldn't speak about her loss and grief, not even to her mother and sister who she loved and knew they loved her.
When I asked why she couldn't speak to her family she told me that they "find it too hard". She explained that every time she started speaking about her pain and distress the responses were, "Don't be upset", "Everything will be okay", "Give it time", and more.
Unfortunately, most people believe that being "positive" and "hopeful" in these situations is what's needed. It comes mostly from a good place to help the person who is upset feel better. The result is usually the opposite. We all want to be heard and understood. We all want to have our feelings validated and acknowledged.
As you can gather this will be a key aspect of the training but there will be more!
What will you learn?
The training covers 3 core areas:
1) Self Care and Wellbeing so you can manage the toll listening to stories of emotional distress can have on us. This also includes appropriate referral.
• Mental Health and Wellbeing strategies.
• Referral and boundaries framework.
2) Connection so we are able to validate and acknowledge the person so they feel heard and understood.
• Reflective listening
• Brain based communication
3) Influence so we can ask appropriate "solution focused questions" if appropriate rather than giving unsolicited advice.
• Setting the agenda questions
• Scaling questions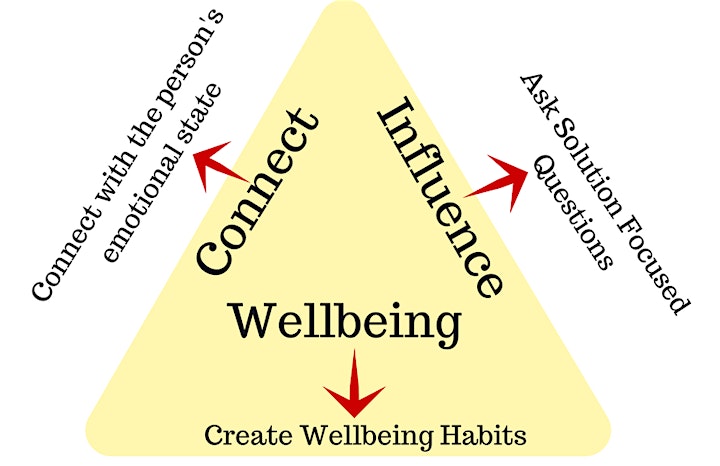 How does it work?
The Accidental Counsellor is a full day program however we've created shorter versions for those who have time constraints and prefer an introductory session.
Date: 2nd May 2023
Delivery: Live online via Zoom
Fee: $99
Times:
WA and Singapore – 10am to 1pm
NT – 11:30am to 2:30pm
QLD – 11:00am to 2:00pm
SA – 11:30am to 2:30pm
QLD/VIC/NSW/ACT/TAS – 12:00pm to 3:00pm
NZ – 2:00pm to 5:00pm
You can check the time zones above are correct using this site: https://www.worldtimebuddy.com/
Refund policy: All registrations for tickets are final. No refunds are available; however, tickets may be transferred to another individual or credit to a toward a future event if you are unable to attend.