When:
December 2, 2020 @ 9:00 am – 3:00 pm
2020-12-02T09:00:00+11:00
2020-12-02T15:00:00+11:00
Contact:
Rocky Biasi Accidental Counsellor Live Teleconference
THE ACCIDENTAL COUNSELLOR TRAINING
For Anyone Not Trained As A Counsellor But Often Find Themselves in Counselling Situations By Accident.
As an Accidental Counsellor you are not a qualified Counsellor and you don't do therapy. However, regardless of title or qualification you are an Accidental Counsellor.
Accidental Counsellors are people who find they are placed in a counselling/mentoring/coaching role by accident, as a result of requests for help from friends, colleagues, clients or others.
THE ACCIDENTAL COUNSELLOR TRAINING will focus on 3 core themes:
Wellbeing
Connection
Influence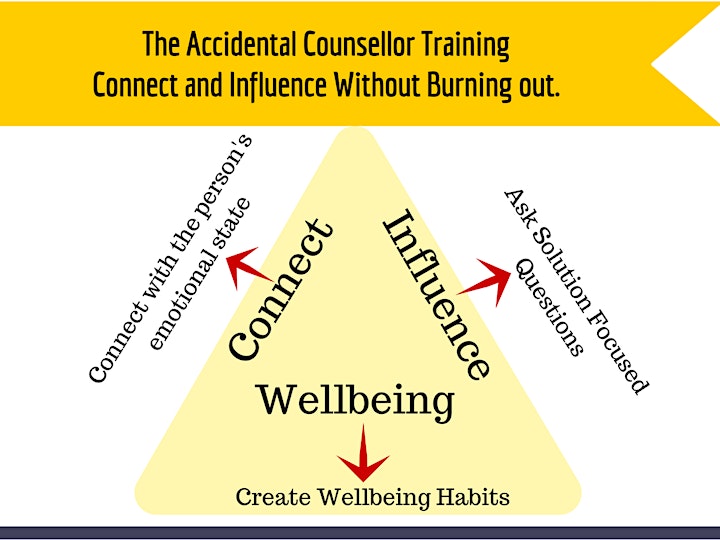 WELLBEING
As an Accidental Counsellor a focus on your wellbeing and self care is essential to avoid burnout.
A focus on your wellbeing and self-care allows you to connect to the stories of pain and suffering you hear from the people you support.
CONNECT
We connect to people's stories of pain and suffering by listening and acknowledging and validity what their experience.
It's with this deep connection that safety and trust increases and the person begins to calm down. Then if appropriate you can ask questions to help the person discover their "next best step".
INFLUENCE
Using practical "Solution Focused" questions and language patterns means you are not giving advice but more facilitating and empowering the person to take their next best step.
AREAS COVERED IN THE ACCIDENTAL COUNSELLOR TRAINING INCLUDE
– Evidence based Wellbeing strategies from the field of Positive Psychology
– Connection processes including reflective listening and the Perception Process
– How to influence using Solution Focused Communication
– and much more!
The way the live online teleconference works
The teleconference will have all of the face to face elements.
We will still be able to connect with other people and chat and discuss in small groups via the breakout rooms using Zoom software. It's easy easy as clicking on a link and there we are connected virtually.
During a face to face event people sometimes want to speak with me one on one . We can do that online also where we can schedule a 15 minute call and speak with me one on one.
Here are the details.
Introduction to the training and technology 9am to 9.30am
Session 1. 9.30am-10.30am Break 1 (15 min)
Session 2. 10.45am – 12.00pm Break 2 (30 minute)
Session 3. 12.30am to 1.45pm Break 3 (15 minute)
Session 4. 2pm pm to 3.00.pm
What do I need to participate?
To participate in this session you need the following
1. A laptop or computer which will be used to participate in the Zoom conference call. On this you will see the presenter, the slides, instructions and all demonstrations. Many of our schools and organisations connect their laptop to a big screen/projector.
2.If you choose to use the digital copy of the 62 page manual for the day you'll need to access that from another computer, laptop or device.
3. Pen & Paper for any notes/workbook activities if you choose to print a hard copy of the manual.
4. The microphone on your laptop/computer/tablet will allow you to ask questions and participate as an active attendee.
5. For a better listening experience we recommend using headphones. This can be the same as what you use with your phone currently.
Added Bonus Free 12 Month Access To The Online Accidental Counselor Course 9.5 hours
As part of this Live Teleconference package we are providing free access to the pre recorded Online Accidental Counsellor Course for 12 months to support your learning. This is valued at $199 and it's free as part of the ticket price.
The Accidental Counsellor Training live event has been conducted all over Australia, New Zealand and South East Asia to over 10,000 people!
Created by Rocky Biasi in 2008 receiving stellar reviews from all in attendance. Book your spot now to ensure you don't miss out.
What attendees have said about the workshops:
What a fantastic training course! We have had nothing but positive feedback and I think you reached deep into the hearts and minds of many of our volunteers.
Anna Partridge – Wayside Chapel
The one-day workshop I attended and the online videos I watched prior to attending have given me so much comfort and so many strategies, rationales and frameworks that I can use in both my professional life and my personal life.
Ouranita Karadimas – Holroyd High School
Professional Learning Hours
The Accidental Counsellor Training is endorsed by NESA, TQI and the Australian Community Service Workers Association.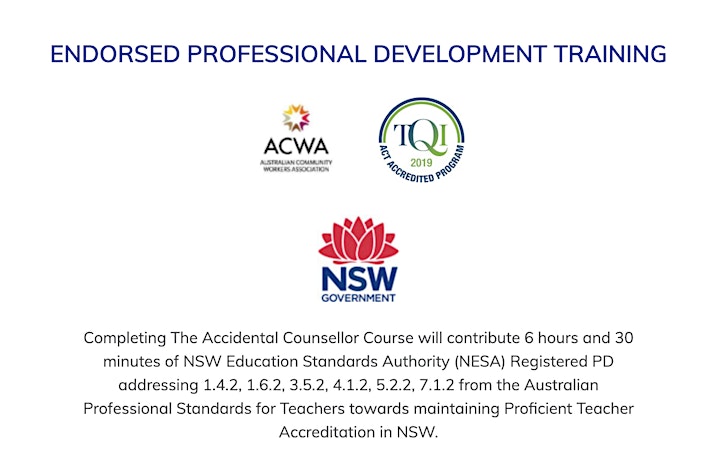 Who Should Attend?
Anyone who finds themselves supporting people in emotional distress without formal counselling skills.
Details
Live online Teleconference.
Join the room from 8.45am, workshop runs from 9.00am – 2.30pm
Refund policy
All registrations for tickets are final. No refunds are available, however tickets may be transferred to another individual or credit to a toward a future event if you are unable to attend.